Meet Glen and Riesa: They're Non-Traditional, Never Nonplussed
Bringing Along Family/Friends/Partners, Dating on the Road, Helping Hospitals in Need, Outdoors Across the U.S., Travel Nurse Pay, Traveling With Pets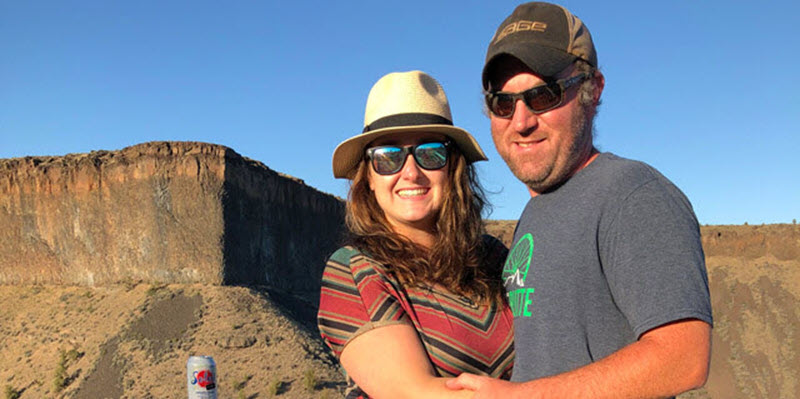 What do fires in Northern California, Hurricane Irma in Houston and flooding in Sacramento all have in common? Aya travel nurses Glen and Riesa were there to care for their ICU patients through them all. And that's really no surprise if you get to know this incredible couple.
Glen and Riesa were given the option to leave their current assignment in Redding, CA to escape the fires blazing mere miles from their home, but they decided to stay, to help, to do what they do best. Travel nurses are generally a tough breed, but not everyone is Big Sky Country tough. The couple once rented a beyond rustic cabin and were warned about the lack of amenities. Riesa explains, "The guy said, 'well, it really only has wood heat and dirt roads.' We were like 'that's fine we're from Montana. Sounds absolutely perfect, sir!'"
Paradoxically, perfecting their beautiful Montana dwelling was also the impetus for leaving it behind. Glen and Riesa have owned land for years and are currently building a home…literally. With the advice of YouTube, how-to books, family and neighbors, Glen and Riesa are erecting a house — by themselves! They are financing nothing and contracting out nothing. To make this work they needed not only a can-do attitude and some serious self-confidence, but major capital as well. Enter travel nursing to the rescue. "We liked the extra income" Glen says as Riesa amends, "We NEEDED the extra income."
With money rolling in from their various travel nursing assignments, the couple was able to buy an RV to hit the road in with their trusty mutt, Remington, along for the ride. Financing their dream house has always been their main goal, but along the way they've found that travel nursing has much more to offer than cold, hard cash. For Riesa, who says, "my biggest fear in life is being told I have to sit still," it's the perfect gig. They've discovered events they never knew existed, like a lettuce festival in Yuma, Arizona and tasted flavors they didn't expect to find, like rich cabernet from the plentiful vineyards near Jackson, California. They've also made great friends along the way. A fellow nurse Riesa met on assignment in Seattle is even going to be a bridesmaid in their upcoming wedding.
When asked why he wants to marry Riesa, Glen says, "for the last ten years she has been my best friend and companion who has shared my crazy dreams and adventures." The happy couple will soon tie the knot in style, with friends and family by their side and a roof they built themselves overhead.