Meet Kevin: He's taking the plunge…literally!
Outdoors Across the U.S., Taking (Lots of) Time Off, Travel = No More Hospital Politics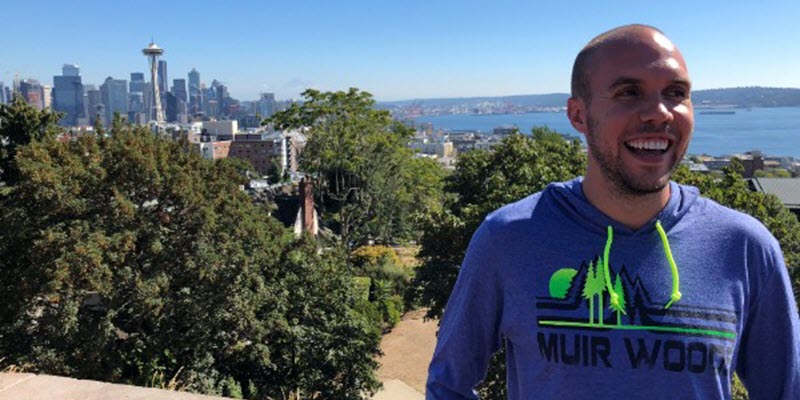 "I decided to take the plunge" is a phrase you often hear when people describe embarking on a travel nursing journey. While that is figuratively true for many, Aya travel nurse Kevin can say that literally. In just over a year and a half, not only has he booked assignments in Dallas, Temple, Flagstaff, Oakland, Oxnard and Seattle, but he's also worked towards earning his skydiving license along the way. Fifteen jumps in, Kevin can name a few favorite spots. The landscape in Lompoc, near Santa Barbara California, was a definite highlight. Kevin reminisces, "Those rolling green hills…it was beautiful. I don't know if I liked that better, or this place right outside of Sedona, Arizona. It had gorgeous views of the red rocks and you jumped along the side of a mountain!"
Kevin has found that skydiving resembles travel nursing in more ways than one. The stakes are high, both on his ICU units and of course, when jumping out of a moving plane. It's a good idea to employ evidence-based practice in both situations. He picks up helpful tips on each jump, and every place he travels he finds a different, yet equally fascinating clinical focus. "In Texas procedures and medication choices are very different from what doctors in Arizona choose which is very, very different from what they choose in California. It forces me to be up to date on everything and introduces me to different styles of care for patients."
Exploring the U.S.while improving his clinical skills is something Kevin has known he wanted since the beginning of his career. Just out of college he met a few travel nurses and knew immediately he would follow the same path. "I love being a nurse," Kevin says. "It's great, but the whole travel component makes it so much better." Travel nursing has allowed him to catch a taping of The Price is Right, hike and camp in countless national parks, and, as he likes to say, "eat my way through every city I visit."
As a traveler, Kevin revels in the unexpected. "I had way more fun in downtown Oakland than downtown San Francisco," he asserts. "And people tend to drive through Flagstaff, Arizona but I highly recommend it. The hiking and skiing are phenomenal." The road less traveled has a lot to offer. As Kevin explains, "It took me almost a year and half to get out to Seattle, but I had so much fun along the way that I really don't even care."
Kevin has been able to focus on the fun stuff because, as a travel nurse, he isn't bogged down in hospital politics or side-tracked by anything extraneous to patient care. He finds the standard 13-week assignment length to be perfect, because usually that's exactly when he's ready to say, "It's been fun, bye y'all!" and head out on his next adventure.