Your Team
The Secret to What Makes Us One of the Best Travel Nursing Companies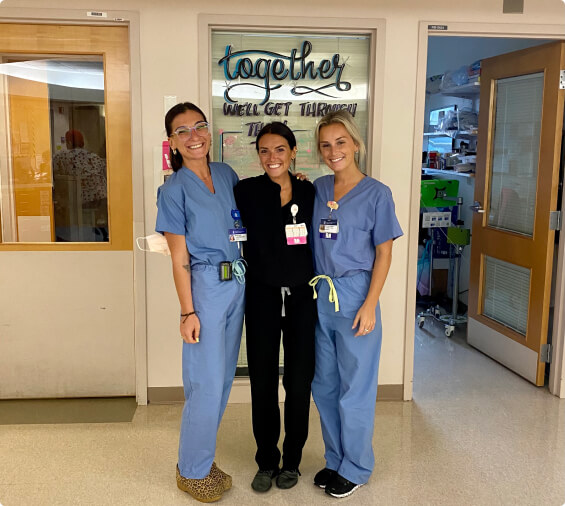 Taylor P., Step Down RN
When it comes to your healthcare career, we've got you covered.
You may have heard that travelers have "recruiters." That's true with nearly any travel company you choose to work with. But with Aya Healthcare, you get much more.
In addition to your recruiter, you have a team of experts to help you navigate each aspect of your assignment and career. They take care of your housing, pay, compliance and overall experience. This expert team will support you through every step of your travel journey.
Aya is a great company to travel with. They have the most job options and your team works hard to handle everything you need to begin traveling. They're always available to assist you during your assignment. My recruiter, Monica, has helped me throughout the years and always pulls through for me. Kelsey S., MS/Tele RN
Your Team Will Ensure an Exceptional Experience
Recruiter Team
Your recruiter will listen closely to your goals so they can help you make the most of your career. If you want to be close to family or friends, they can find assignments nearby. If you're looking to work exclusively in world-class hospitals to gain experience that will look great on your resume, they can help you with that, too! If there's a dream city you can't wait to explore, they'll do everything they can to get you there.
Your recruiter will provide insight into big things, like which contracts will best meet your needs, as well as smaller things — like where to find fun activities in your new city. Register now and find out how an Aya recruiter is much different than a recruiter at other travel nurse staffing agencies!
Credentialing Team
These team members handle as much of the paperwork as possible, so you don't have to! Your credentialing specialist keeps your documents up to date and ensures you're always fully compliant with facility requirements. They also make sure you understand your reporting instructions before you arrive at a new facility. They track your certification renewals, notify you if you have any missing or expiring documentation and even set you up with appointments for things like drug screens and TB tests.
This team is all about attention to detail, and you can rely on them to make sure your paperwork is always on point.
Payroll Team
You work hard, you deserve to get paid on time and accurately. These are the people who make that happen. Your payroll specialist ensures you're paid correctly every week. They'll proactively reach out to check that your hours are correct by texting you once a week. If you have any questions about your paycheck, overtime, timesheet or anything at all related to your pay, you have an expert team to turn to.
Travel Experience Team
This team ensures you're completely satisfied with everything, down to the tiniest detail of your assignment. Before you start at a new facility, your travel experience specialist helps you through onboarding, explaining everything you need to know about your Aya team, benefits, payroll, housing, facility-specific details and more. They leave no stone unturned when it comes to making sure you're prepared to hit the ground running. And if something ever does go wrong (e.g. your flight gets cancelled or you have an issue on assignment) they'll be there to help.
Always feel free to reach out to this team for anything you need! When you're happy, they're happy.
We're here when you need us.
Aya travel nurses receive a 24-hour emergency contact number so you can reach us anytime! No one wants an emergency, but we will always be here and ready to help if you experience one.