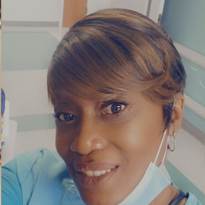 Tifany receives praise from a patient
Tifany received praise from a patient who thanked for her professionalism and thought she was extraordinary!
The patient wrote, "During my two-week stay at the hospital, I had the privilege of meeting Tifany. She was compassionate, proficient, and listened when I described my veins are deep and rolling. The young and less-experienced techs left me hurting, bruised, and traumatized, but Tifany took her time, made one injection, drew the blood and did not hurt me or leave huge bruises. I appreciated her professional approach and wanted to relay my sincere gratitude for her attitude, compassion and ability to render service without harm."
An extraordinary nurse, indeed! Your patients are luckily to have you, Tifany. Keep up the good work.
09/23/2022