Meet Miranda
Cutting-Edge Clinical Techniques, First Time Travelers, Traveling With Pets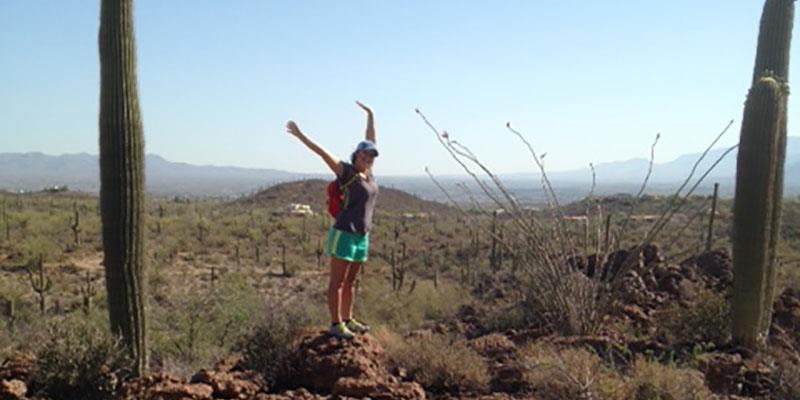 Currently on her second travel assignment, 27 year old Miranda R. is loving her experience so far as a travel nurse. Miranda began travel nursing to experience something new and different.
Originally from a small town in southeast Iowa, Miranda is spending her assignment in Tuscon, AZ and has enjoyed every moment of it. Her favorite part of travel nursing, she says, has been getting to meet different people.
"You come across so many different relationships. It really has reminded me that there are still some good people in the world," she says. "No two days are the same, which is the nature of the ER anyways but they really aren't. I enjoy the challenge of pushing myself to get up to speed quickly with each hospitals flow, charting, protocols etc."
Miranda says one of the biggest challenges of travel nursing is adjusting to the expectations of the hospital.
"It can be a tad overwhelming at first," she says. "But remember, you know your stuff, just take care of patients and find a good mentor to help you with the logistics of it."
Being away from home is also a challenge at times, she believes.
"It can get lonely at times, but I have an excellent support system at home," she says. "My mom recently just flew out to see me. You got to put yourself out there sometimes which can be tough, but it will allow you to make friends and form relationships."
Miranda advises new travel nurses to take a pet if they are single or going to an assignment alone.
"Pick a location that has things outside of work that interest you, so you have things to do when your off until you form relationships with people," she says.
Being a farm girl from Iowa and having previously worked in a smaller hospital, Miranda has been able to experience a new city lifestyle and change her perspective on her career.
"Just the experience of it all has been incredible. I've gotten to see and do more things than I can describe," she says. "Traveling also has made me a better nurse. Seeing different EHR's, protocols, having to adjust from my "norm", getting out of my personal comfort zone and challenging myself has only made me a stronger nurse."
Miranda believes any nurse considering travel nursing should dive in and give it a shot.
"Some of the relationships I've formed with people will be life long, and although it can be a little nerve wracking at first, it is so worth it!"