"Adopted Southerner" and Route 66 Expert
Bringing Along Family/Friends/Partners, First Time Travelers, Outdoors Across the U.S.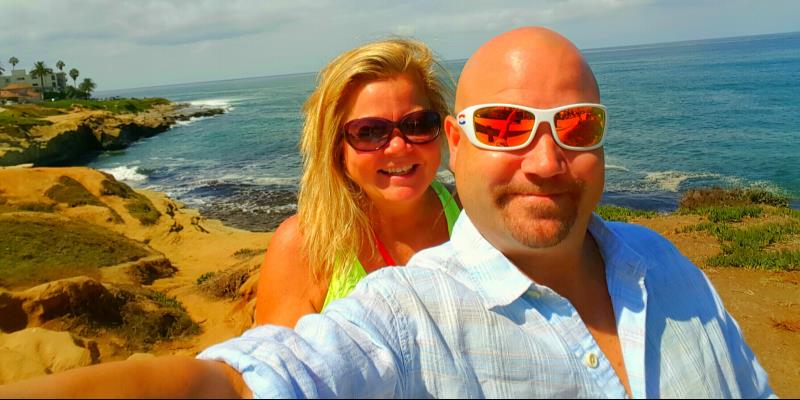 What you do you learn after you've road-tripped across the country seven times? A lot as it turns out. Eating a 64 ounce steak in Amarillo, Texas is an impossible feat, Vicksburg, Mississippi is home to "a really fun casino" and most importantly, as Aya Healthcare travel nurse Tracy's husband Jake explains, if you "spend 15 hours in a car with somebody and can still say I love you and good night" then you really have found the person you were meant to be with.
It took over a year for Tracy to decide it was time to load up their Chevy Impala and hit the road. It was ultimately Tracy's ever-patient recruiter Danielle's guidance combined with her son moving to China to teach English that pushed Tracy out of the door. "I'd talk to Danielle and I'd chicken out. Then I'd think maybe I'll do it and then I'd chicken out again. She was so amazing, she stayed in touch." Her husband Jake's decision to join her came much easier. Jake's response, when Tracy informed him that she had given her notice and wanted to travel in a few weeks, was simple and sure. "I remember the day she came in and said we were going.  I said OK, let's go." That was more than four years ago and they haven't looked back since.
Tracy began her career in the burn center at UNC Chapel Hill, which is exactly the way she wanted it. It would be easy to be fooled by the gentle Southern cadence of Tracy's voice into thinking she is too sweet to relentlessly seek what she wants, but that would be a mistake. She may be bubbly and kind but she is also tenacious. As a new graduate, the burn center was her top choice even though she knew that those jobs usually went to more experienced RNs. When the application requested she choose three departments she emphatically wrote "Burn Center, Burn Center, Burn Center." When a UNC rep called to request she revise her application and choose two additional departments she thought it through, opened a new application, typed "Burn Center, Burn Center, Burn Center" and hit send.
Tracy's persistence was rewarded when she landed her dream job. While she "loved being a burn nurse" her time in that environment eventually started to take an emotional toll. It was especially hard for Tracy to see children so sick. She came to the conclusion that "There are so many opportunities, why be sad when you could be doing travel nursing? Going different places and meeting people and learning is beautiful, why in the world would you not do it?"
Sharing the last four years of adventure with Jake has soothed Tracy's soul. From working in the Tucson, Arizona hospital where she was born, to having lunch with her stalwart guide, Danielle, in San Diego (which Tracy gushes was "like meeting Siri!") to falling in love with the vaunted halls of Yale this fearless couple has made the most of their many cross country traversals. Jake loves the desert and thinks Tucson may have been his favorite spot….but Tennessee is such a close second it's basically a tie. Jake loved that the Volunteer State felt so "down home apple pie Southern." While Tracy was on assignment there Jake worked at a rural veterinary hospital and was delighted when "someone came in to pay their bill with deer meat." Tracy discovered that "San Diego was hard to leave," that Asheville is covered in gorgeous waterfalls, and that leaving the 100+ degree Tucson heat for the polar vortex meant Jake would
have to buy some boots. "
Despite wandering far and wide these two never lose sight of home. Tracy is very close with her family and ask Jake says "Danielle is so great at coordinating" assignments near them. Tracy's family moved to North Carolina when she was 13 and she considers herself an "adopted Southerner." They may never stray far from Dixie for too long but they still have an extensive bucket list. Up until now they have mostly stuck to fabled Route 66, but Tracy doesn't want to neglect the northern part of the country. She dreams of seeing the beautiful Pacific Northwest and while she believes she would have to "drag Jake kicking and screaming" she would love to work in New York City. When asked about The Big Apple it's clear that while big city living wouldn't be Jake's first choice, if it will make Tracy happy then he is always game.