Thrill Seeker, Texan, Traveler
Bringing Along Family/Friends/Partners, First Time Travelers, Outdoors Across the U.S., Taking (Lots of) Time Off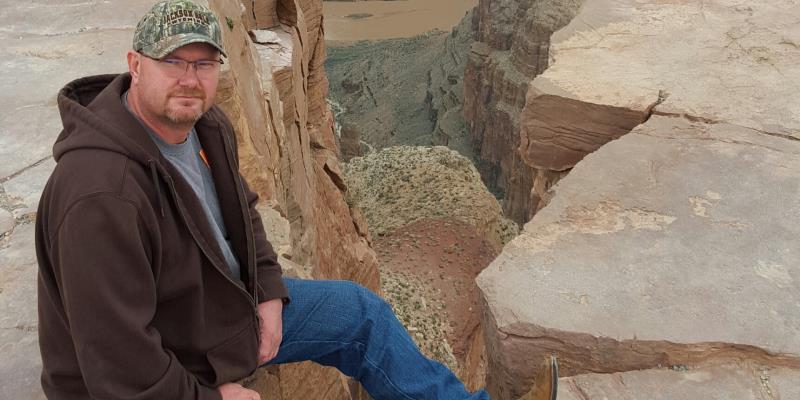 By hitting the open road in their RV Joe and his wife Teri are making the most of their travel nursing experience. Having spent fourteen years in the OR, both as a nurse and a manager and with their two children grown, Joe was ready to see the country when Teri retired. In just over a year they have made the most of their mobility having already spent in Roswell, New Mexico, Idaho Falls, Idaho and Sun City West, Arizona.
Hailing from Texas, and with the drawl to prove it, Joe likes to spend as much time as he can exploring the great outdoors. In Idaho, Joe's favorite spot thus far, Teri gamely accompanied him on camping trips each weekend. Joe is a daredevil who believes that "the most dangerous something is the more fun it is" and his time off proves his commitment to that ideal. Hunting is a passion and elk is his favorite game (he makes a "mean elk jerky") but alligator has probably been his most dangerous and exotic quarry.
His bold spirit, so quintessentially Texan, doesn't just serve Joe well when he is staring down a wild beast but is also an essential component of his success at work. Nursing requires composure and as Joe explains "There are people that stress out in stressful situations and people who don't. You have to be calm on the outside…even if you are panicking on the inside." Listening to Joe's steady voice it is easy to picture his sangfroid in the face of the difficulties any nurse, especially one who travels, encounters on a daily basis.
As he explains it "People can be skeptical when you walk in. You can't tell them you know what you are doing you have to show them." And show them he has. Joe has been asked to extend or stay on staff on every assignment he has picked up. Not only has he impressed his coworkers he has also charmed the locals into spilling secrets. Every Monday in Idaho his new friends would ask "where did y'all go and what did y'all do this weekend?" And they would suggest new adventures. "One person will tell you about one places another will tell you another. I love to fish and the locals don't give away a whole lot of secretes but they warmed up to me," eventually letting slide secluded spots tourists don't know about. In addition to discovering fishing holes across the country Joe and Teri have enjoyed many other pursuits. As the "youngest people" in the 55+ crowd at their resort in New Mexico they were active in a big way. Teri worked at the tiki bar and with the constant interaction of seeing live bands most nights, a huge Mardi Gras party and decorated golf cart parade during Christmas they had no trouble making friends.
From becoming fixtures in their community's party central to immersing themselves in wild locales Joe and Teri show no signs of slowing down. Ultimately they are looking for the perfect place to retire but for now there are too many people to meet, ricers to fish and mountains to hike to settle down. These two tumbleweeds are ready to move on to either Utah or Colorado this spring and perhaps a stint in Montana for the summer. All it takes for them to hit the road is to give Joe's recruiter Audrey a call to find the next assignment, pack up the RV and go…