Meet Christine: Headed Where She's Needed Most…4 Kids in Tow
Bringing Along Family/Friends/Partners, Helping Hospitals in Need, Outdoors Across the U.S., Travel Nursing + Side Hustle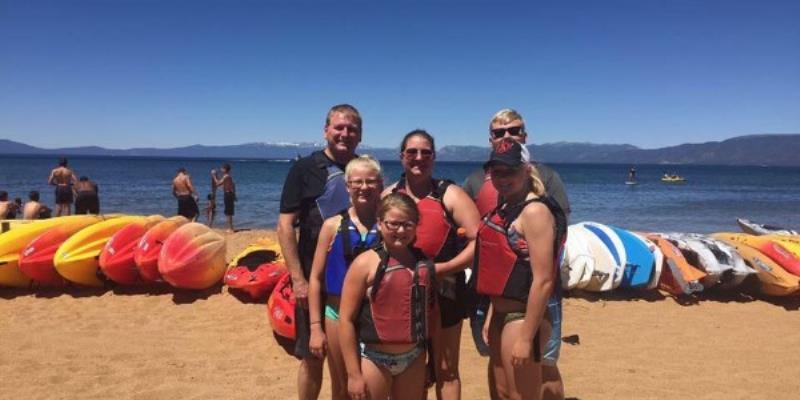 When you think of the typical travel nurse, a mother of four school-aged children isn't the first person that comes to mind. But between shuffling kids to fishing, gymnastics, cheer and softball practice, Aya travel nurse Christina has also somehow managed to help deliver thousands of babies over the last 14 years.
For the past five of those years, Christina has been on the road — proving there really is no "typical" travel nurse. She has a bucket list of places she wants to see (Maine, Texas, the Carolinas and the Virgin Islands) but that isn't the reason she decided to travel. She prays before every new assignment and views travel nursing as missionary work. She usually has an epiphany where she realizes her purposes for being in a particular place at a particular time. "I get that lightbulb aha moment," she says.
Currently in search of that moment, Christina makes the four-and-a-half-hour drive to her latest assignment twice a week, right before and right after a full shift (because, clearly, she's Superwoman in disguise.) Ever efficient, her drive time is never wasted — she makes calls to friends and family members. Her soft, pleasant accent and kind ways are indicative of her roots — Christina was clearly born and raised in Kentucky. She and her family live in Hawesville, KY and she generally works in her home state, Indiana or Tennessee. In addition to feeling compelled serve, Christina laughs, "Travel nursing was kinda my retirement plan. My husband is an elementary school principal and he can retire early. I, of course, will probably work until I'm 95."
You know the old cliché that when you love what you do you never work a day in your life? That's why Christina plans to break SeeSee's record as oldest working nurse in America (if you haven't heard of SeeSee look her up!) Christina has been on this path for most of her life. In high school, she needed back surgery and was so impacted by the care and compassion of the nurses she met that she decided, in her words, "to give back to the medical community what I had taken from it." At just 16, Christina began working as a CNA, and continued through nursing school to become the labor and delivery night shift supervisor. After many years at the same hospital, she now travels just far enough to come home part of the week to see "her babies" grow up.
Friends and family often ask her to attend their deliveries, and Christina is always there, even on her days off. In fact, on one of these occasions, when her husband's cousin was in labor, the doctor didn't make it on time and Christina delivered the baby herself. Whether it's a friend or family member's baby, she always says, "Oh that's one of my babies!"
Christina leaves these adopted babies occasionally…but not her biological ones. Twice now she's taken the entire family with her on assignment. And where do you head with four kids from the ages of 8-15? You take them all the way across the country of course! Way out to the Pacific Ocean, which they got to see together for the first time. The family spent two golden summers paddle boarding and bike riding in Newport Beach, exploring San Francisco, kayaking Lake Tahoe and trekking around Yosemite. Christina laughs recalling her oldest daughter declaring, "I hope you know when I become an adult I'm going to move to California."