Meet Tyler and Brandon: They're Leaving What They Love to Find What They Might Love More
Bringing Along Family/Friends/Partners, Dating on the Road, Taking (Lots of) Time Off Illinois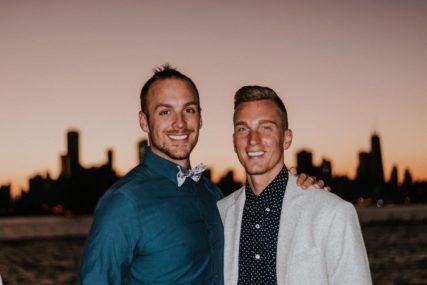 Aya travel nurse Tyler firmly believes, "Traveling isn't just about leaving what you hate, sometimes you have to leave what you love."
He and his boyfriend, fellow travel nurse Brandon, didn't find it easy to leave home for the big city. They've known each other for more than a decade but didn't start dating until Tyler recommended Brandon for a job in his Michigan ER. There, they fell in love not only with each other, but with the ER environment and their crazy (in a good way) colleagues.
"Going to work wasn't a chore," Tyler says. "It wasn't a job. It was fun."
But Tyler wanted to do more, see more. So, he chose Chicago for his first travel nursing assignment. Unfortunately, "It didn't go well," he explains. This was before he and Brandon got together and Tyler says, "I was lonely. Plus, I almost got mugged downtown. But it made me tougher as a person, gave me a bigger backbone."
A little older and wiser, Tyler eventually made it back to the Chi Town with Brandon and their border terrier, Tucker. The past forgotten; the trio now considers it their favorite city. But it's only one of many places they've enjoyed in their two years on the road together.
Usually, they gravitate towards destinations they're dying to explore, like Denver, but at times they book assignments with more practical views in mind. Most recently, they scoured the country for a high paying location in a low-cost area.
Why the sudden need for an influx of cash?
Brandon and Tyler are headed to Europe — for a month and a half. They've taken time off to travel the U.S. before, but neither has been so far from home. That changes in a few weeks, when they head to Tomorrowland, a music festival in Belgium, then the Netherlands, France, Spain, Switzerland and Greece. The final stop? A huge Pride festival in Italy!
They're excited, but don't know quite what to expect from their European adventure. As always when they head somewhere new or try something new, Tyler says, "We're going in with the best and highest hopes."