Meet Megan and Kayla: They're traveling … While Traveling
Bringing Along Family/Friends/Partners, Cutting-Edge Clinical Techniques, Dating on the Road, Taking (Lots of) Time Off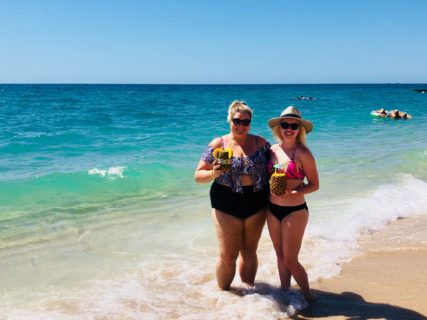 "I love your accent!" is the first thing Megan's recruiter, Meredith, said to her over the phone. As a travel PICU/CVPICU RN from Louisiana who ventured out with her friend and fellow nurse, Kayla, last year, Megan hears that a lot. It's one of the perks of seeing new places and meeting new people.
"We definitely travel well together," says Kayla. "It can be hard when you go to new hospitals. You have to show them that you know what you're doing. Megan understands; we've been in a lot of stressful situations together." Megan agrees, explaining, "Having a travel partner has made it so much easier for me. She pushes me to go out and explore."
"We try to go somewhere we haven't been at the end of each assignment because, why not?" Megan says. "We like to say we're traveling while we're traveling.'"
Constant travel has yielded much for this perfectly matched duo, both professionally and personally. "We come from a unit that was PICU and CV combined, so, it's been awesome to see straight CV units," Megan says. "I feel like I'm learning a lot."
In just a year of traveling they've lived on the beach in San Diego, discovered the stark beauty of Sedona and enjoyed Dallas so much that they extended their current contract. Megan was able to reconnect with family she hasn't seen in decades and Kayla's had arguably even more luck. She just returned from visiting her boyfriend, a fellow nurse she met in Phoenix on her first assignment. "Who would have thought I'd have to cross the country to meet the man of my dreams?" she asks with a laugh. "It was meant to be."
Romantic connections aren't the only ones they've made. Fellow travelers have touched their hearts as well. "I feel like part of a small, tight-knit community of travel nurses," Megan says. "Everyone knows everyone."
That community spirit came in handy recently, when unbeknownst to Megan and Kayla, they were cancelled from their original Dallas contract. They were less than a week away from moving, had already packed up, signed a lease in their new city and were relaxing in Hawaii when disaster nearly struck. Megan says, "It's the only issue we've had, and it really wasn't an issue because our recruiter is awesome."
"Meredith didn't want to mess up our trip, so she worked her magic and didn't call us until the day before we came home," says Megan. "It turns out our contract was cancelled because they didn't need any more PICU nurses, but she got us CVPICU instead!" Meredith had another nurse that knew the pair put in a good word to help secure the new contract.
"With this job, things can happen at any time," says Megan. "But I trust my company and I trust my recruiter. We're totally, absolutely happy with Aya and everything that we've experienced so far."