Lifetime Wisconsinite seeks new (warmer and sunnier) horizons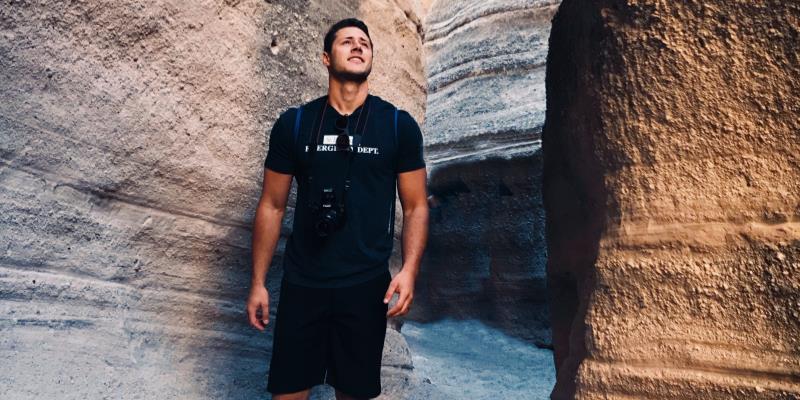 Can you imagine meeting the love of your life before you could walk, finally dating in college, eventually getting married and ultimately traveling the country together? It sounds like the plot of a romcom, but it's real life for Aya travel nurse Jacob. He and his wife MiKall grew up together (their fathers are grade school buddies!) and their families spent summers camping together. In Jacob's words, he and MiKall have been "best friends for pretty much our entire lives."



Jacob now has several years of nursing under his belt and his best friend by his side. With their bags packed and their lake house listed on Airbnb, it was time to head out on a new adventure. Having lived their entire lives in northern Wisconsin where the snowfall can often be measured in feet, Jacob and MiKall felt it was time to head for milder weather. They considered several places before the sunshine drew them to the Southwest. As Jacob puts it, "Albuquerque came up and we decided 'Hey, we've never been to New Mexico before and it would be a fun drive down, so let's see what's out there.'"



Jacob's gamble to move to a place he'd never seen before was richly rewarded. The Land of Enchantment has a lot to offer the adventurer – from biking to hiking to incredible natural hot springs – and as Jacob says, "The culture is just amazing, we've learned a lot out here and the food is phenomenal." And those aren't the only charms the "ABQ" holds for visitors. Jacob explains, "Albuquerque is in a nice spot. Not too far from Phoenix or Denver and Santa Fe is just an hour and 15-minute train ride. Taos is amazing as well."

With all of the great places to check out, it's tough for Jacob to choose a favorite memory from his action-packed first assignment, but one particular morning stands out. It was the week of the world-famous International Balloon Fiesta. Jacob had a few friends in town and they hit a 6 am rooftop yoga/balloon watching session. As Jacob describes, "It was still dark out and we got to see all the balloons light up and float over us. They have hundreds of them going up at one time and it's just an awesome sight."



From climbing the peaks of the Sandia Mountains just outside the city to ascending the skies in a hot air balloon, Jacob enjoys getting his blood pumping on his days off. A born ER nurse, he likes to keep the adrenaline up at work as well. He loves the emergency department because as he explains, "I like being able to use everything I've learned. In the ER you get everything from infants to 100-year-olds and it's always different." For someone like Jacob who seeks the thrill of new experiences, travel nursing is where it's at. He asserts, "Albuquerque has been a nice change because I've seen double the amount of patients I'm used to. It really sharpens the skills."



Now that they've explored the Albuquerque area to the fullest, it's on to the next. MiKall found a job in downtown Seattle and Jacob will join her there in a few weeks. LA is also on the itinerary and then maybe somewhere on the East Coast when it warms up. Jacob has friends all over the country and plans to make his rounds, choosing assignments near each of them. He's sure to continue to hone his nursing practice and gather unforgettable memories with MiKall as they go. But even as a newly-minted travel nurse, Jacob offers excellent advice to anyone thinking of giving traveling a try: "Make sure you find a recruiter who is very personable, who will work hard and do anything for you." He adds, "Angela found me a placement right away. She's been awesome." He also believes, "Aya has done a great job making me really at ease and really comfortable. The nurses I've been working with have been a great help too." His uncomplicated advice to anyone contemplating living the lifestyle? "I would say if you are at all thinking about travel nursing just go ahead and do it."