CIU Nurse Wins (and Mends) Hearts Wherever She Goes
Outdoors Across the U.S., Taking (Lots of) Time Off, Travel Nurse Pay, Traveling With Pets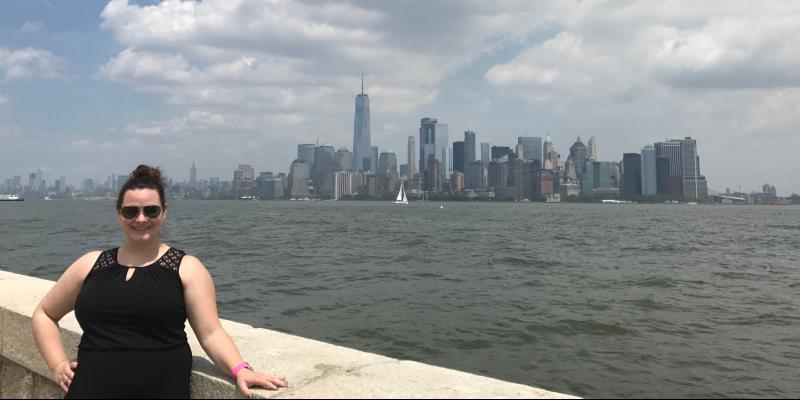 Aya travel nurse, Jacque, recalls her most recent vacation with the sounds of a bustling airport in the background. She celebrated her cousin's wedding in upstate New York then took a quick jaunt to see a friend in New Jersey and had an absolute blast. Jacque loves traveling because it makes connections with friends and family easy. "I have so many people who love me and who I love with all of my heart," she says. "Traveling is really good because I just love more people now than I did before!"
Jacque is headed back to Greenville where she works in the CIU. It's her first time in North Carolina and she's already a Tarheel convert. She raves, "my unit is fantastic, the managers are just lovely, my co-workers are so helpful and sweet." Her time spent outside the hospital has been equally delightful. "I'm from Missouri, I live in Nashville, and I went to school in Arkansas. If there is one thing that I am consistent about it's being very, very landlocked." Jacque chuckles. "Here I've been to the beach, I've seen lighthouses and that's just so cool."
New experiences and welcoming locals are important because leaving home wasn't easy. She recalls, "when I gave my two-week notice our emails ended with 'love you come home soon.'" But student loan debt combined with rising ennui had left Jacque wanting more from life. A friend suggested she travel to shake things up and Jacque laughs as she remembers, "she meant go to Europe for a week but what I heard was 'hey there is actually a solution to fix your extreme money stress and your angst to just go figure out who you are as a person.'" Inspired, Jacque packed her bags and became a travel nurse.
She loaded up her three cats, Melody, River and Cece and headed to her first assignment back home in Jefferson City. From there it was onward to Tennessee where Jacque soaked up Memphis' rich past, which included the chance to reconnect with her personal history. She lived in a beautifully remodeled turn-of-the-century home with a family she befriended years ago while serving a mission in West Africa. Her residence may have been idyllic, but not everything about her second assignment followed suit. She was accidentally assigned to the wrong floor during orientation, but her beloved recruiter Cheryl S. swiftly resolved the situation. "Never at any point did anybody I was working with at Aya make me feel like I was going to just be dropped and left high and dry," Jacque says, relieved. "Never."
Having a tried and proven team behind her is of utmost importance because Jacque anticipates at least one more bump along her journey. She plans to head out to the Pacific Northwest someday, and as she is well into her self-described "crazy cat lady" phase the whole gang will be coming along in her tiny fiat. "Three cats. Doesn't that sound thrilling?" Jacque jokes. But imagining her good-naturedly tending to the restless felines, excitement building as they traverse prairies and mountain ranges to reach the mythic west…it actually does.