Lifetime Traveler, Veteran, and Proud Grandfather…the List Doesn't End There!
Bringing Along Family/Friends/Partners, Career Advancement, First Time Travelers, Helping Hospitals in Need, Taking (Lots of) Time Off, Travel Nursing + Side Hustle South Dakota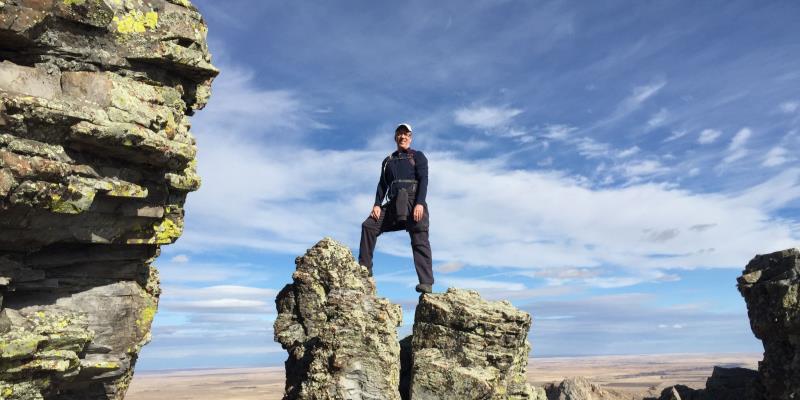 Long before becoming a travel nurse, Earnest was never rooted in one place for long. From his itinerant boyhood in which he bounced around from the East Coast to West Virginia, Kentucky, Ohio  and all the way out to Texas, to the twenty plus years he spent in the Air Force living all over the world, Earnest knows a thing or two about exploring new places. He unpretentiously rattles off the names of exotic locales as casually as most people mention they visited the supermarket. As thrilling and varied a life he's lead thus far, you would think it would be difficult for Earnest to choose a favorite place. Although he does hold fond memories of quite a few, especially San Antonio where he met his wife and their children were born, Earnest can confidently declare "Rapid City is my favorite spot."
Settling in South Dakota may sound like a surprising choice for a world traveler, but Earnest couldn't be happier. This doting grandfather of five (with another on the way!) loves to head out with his family and explore the beautiful areas surrounding his home. The state offers much more than Mount Rushmore. As Earnest enthuses, there are "lots of outdoor activities. We are in the black hills so there is a lot of good hiking, boating, wakeboarding. We like to rock climb and there is some great granite here for climbing."
Earnest currently works a few hours away from home in an ED in Chamberlain. When asked why after years of moving all over the globe he decided to give travel nursing a try Earnest explains that it was  because "with travel nursing, you have a little more control over your schedule with where you work and when you work, and I like that." This flexibility in his work hours has allowed him to pursue his DNP.  Working full time at a hospital was difficult with his course load and so, as he says "I jumped ship and went into travel nursing and it's been great. Right now I am doing my clinical immersion so they let me work 2 days a week. I go in and work for four days and that takes care of two weeks worth of work." This ideal schedule is not the only thing he enjoys about his job. He has continued to extend at his current facility and has now been there for a year, because as he puts it, "they are a fantastic group. They treat their people well and they care about their patients and it just seems like a really good system and a lot of good people that I work with."
With a background like Earnest's it seems only natural that his title contains the word travel. Nurse, however, is a somewhat newer addition. He holds a degree in aerospace science and was a jet engine mechanic during his first twelve years in the Air Force. Eventually, he realized that he "liked people better than airplanes" and so applied to nursing school. "I didn't know anything about it but got accepted and it has been a perfect fit." Since earning his RN, Earnest has spent most of his career in the ED, including some time from 2004 to 2005 in a 10-bed tent hospital in Iraq, where he felt fulfilled caring for soldiers in great need.
From the commotion of the combat theater things may have settled down somewhat for Earnest, but he is always up for his next challenge. He takes everything in stride, from the volatile Black Hills weather ("it was actually 80 degrees yesterday and I think it's 40 today" he laughs) to balancing work, earning a doctorate and making time for family and his many hobbies. His advice for young travel nurses is simple and profound – just enjoy it. "Every place I have ever been, even if it wasn't a place I never wanted to go, I have enjoyed it. So when you go to a new place have an open mind and enjoy what that area has to offer."