Fast Facts
About Eisenhower Health
Eisenhower Health has locations across the Coachella Valley for convenient, quality health care. Eisenhower Health has been a Magnet-designated organization since 2015. The main campus and hospital is located on 130 acres in Rancho Mirage. Eisenhower Health is a dynamic, progressive health care complex comprised of a 463-bed hospital, the Annenberg Health Sciences Building at Eisenhower, and the Barbara Sinatra Children's Center at Eisenhower in addition to its outpatient facilities in Palm Springs, Cathedral City, Palm Desert, Rancho Mirage and La Quinta.
Employee Benefits
Eisenhower has designed a benefits program to make a difference for employees and their families. They're pleased to continue to provide a suite of quality benefit plans to all benefit-eligible employees, including, but not limited to: Medical, dental and vision benefits, Basic Life and Accidental Death & Dismemberment (AD&D), Basic Dependent Life, Supplemental Life, Supplemental Dependent Life Supplemental AD&D, Voluntary Long Term Disability (LTD) and Flexible Spending Accounts (FSA).
Nursing Excellence
Nurses at Eisenhower Medical Center provide evidence-based patient care; prevent illness and injury; promote wellness, comfort, and optimal function; and allow patients and families to actively participate in their care and treatment decision-making. The shared governance model at Eisenhower Medical Center is an organizational structure in which clinical nurses have a voice in determining nursing practice, standards and quality of care. This model, implemented in 2009, reflects the high professional stature of nurses at the hospital.
Join the Eisenhower Team
If you're interested in a perm staff position with Eisenhower, email perm@ayahealthcare.com and someone will contact you as soon as possible. To learn more about Eisenhower Health and things to do in the area, please visit this page — just keep in mind that the "Aya offers" information pertains to travel clinicians, not perm staff.
Meet an Aya Clinician Who's Been There
My recruiter Danielle called me and said, "I have the perfect job for you. This hospital is phenomenal. Trust me you'll love it."
They call Rancho Mirage the Beverly Hills of the Desert. It has tons of restaurants, shopping, hiking, biking and walking trails. We're only two hours from San Diego, three hours to LA and four hours to Las Vegas. Living here feels like being on vacation every day.
And I love Eisenhower. They really take care of you. There's a plan in place before anything happens. Even during the height of COVID-19 cases, we never ran out of supplies. We never had to reuse equipment. If you have a situation where you're not comfortable, there's always somebody there to help. Always. The doctors and the nurses are truly a team. The staff is amazing.
My kids tell me, "You're living your best life." I'm like, "Yeah, I am!"
Network Facilities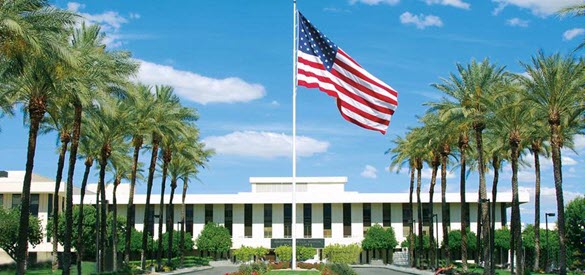 Eisenhower Health Main Campus