DAISY Award Winner Kayla Creates a Lasting Bond with PICU Patient
The cries a PICU nurse hears daily would be enough to bring many people to tears. It takes a strong person to work with children who are sick — and that's exactly what Aya traveler Kayla is! Kayla was selected as Aya's most recent DAISY Award winner because of the extremely compassionate care she gave not only to one of her young PICU patients, but also to his family during a difficult time.
Little things mean a lot
One family member was so moved by Kayla's kindness they wrote:
With an unexpected turn in our lives, we couldn't have been more thankful and blessed with such an amazing, caring and passionate nurse. Kayla showed genuine compassion from the first day we met her. Kayla was always there to answer any questions and address any concerns we had. She always had open ears and was willing to try anything to make our son comfortable. She showed sympathy and tried to do anything to help ease our stress and sadness.
We had not held our baby in days, and she was willing to set things up with a smile to let us hold and comfort our baby.
On the day of our son's surgery, Kayla stopped by before heading home to ask how everything went and how glad she was that he was doing so well. While these things may sound little, it's the little things that made the situation less painful and things not all nurses were willing to do.
After our son's surgery and recovery, we were sent home and returned the next day due to an infection in our son's incision area. Kayla was once again there to answer our questions, distract our minds with small conversations and show her love towards our son. With so much time in the hospital, our son had his days and nights backwards. Once again Kayla went above and beyond to try anything to help us. She created a schedule for him, and she grabbed a chair for him to sit and bounce in.
To sum it all up, Kayla created a bond not only with our baby but our family as well. We couldn't be more thankful for all her help and for being an advocate for our son when he cannot advocate for himself. While there are many amazing doctors and nurses at this hospital, Kayla left an imprint in our heart and our son's heart forever. We will never forget her and how thankful we are.
Celebrating an extraordinary PICU nurse
Kayla helped this PICU patient while on assignment in San Diego, California, but Lona and Amy from Aya's Travel Experience team headed to her new assignment in Dallas, Texas to surprise her with her DAISY Award. Other Aya travelers at the facility, along with Kayla's family, were there to cheer her on as she was presented with her official DAISY pin, certificate and "The Healer's Touch" sculpture.
Congratulations, Kayla, we're so proud to call you an Aya PICU nurse and honored to present you with this prestigious award!
Do you know an Aya traveler who consistently shows compassion and goes above-and-beyond with their patient care? Nominate them for a DAISY Award today!
Kayla's mom, Sherry (who is an NP and former RN), giving Kayla her pin.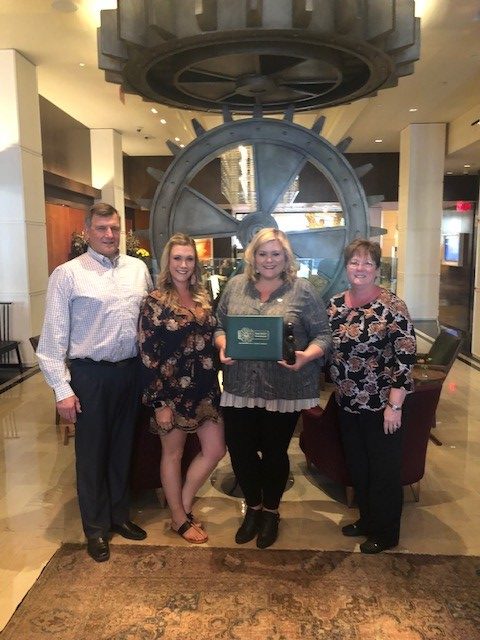 Kayla with her dad, sister and mom, who joined us for lunch and the ceremony.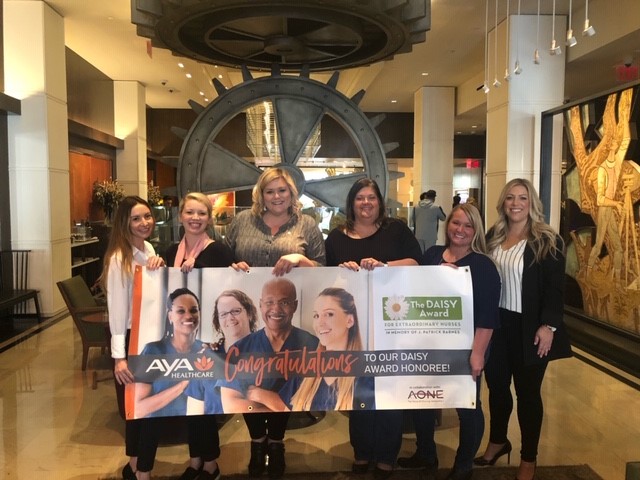 (L-R) Lona (Aya Senior Travel Experience Specialist), Megan (Aya PICU RN traveler), Kayla (Aya PICU RN traveler & DAISY Award winner), Kimberly (Aya PICU RN 1st time traveler), Kylie (Aya PICU RN traveler) and Amy (Aya Director of Travel Experience)