Become a Travel X-ray Technician
X-ray Tech Travel Jobs are Open Nationwide
Every day, in cities across the country, healthcare facilities open jobs for X-ray technicians. Why not book one? (And then another, and another and…)
We update our job list regularly, so make sure to check in often to see what's new. Or apply now and we'll put you in touch with a recruiter who'll do the searching for you! Then, log in and browse jobs, including facility details and estimated pay packages, nationwide.
X-ray Tech Travel Jobs
Your Aya Healthcare Team
Your recruiter will listen to your goals, both financial and personal, and customize your job search to find the best matches for you. It's their job to make your travel dreams a reality.
Your recruiter will be your guide and your main point of contact, but you'll also have the support of an entire team, too. Your dedicated payroll specialist ensures you're paid on time and accurately, licensing and credentialing experts take care of the paperwork and a travel experience specialist makes sure you're happy with every detail of your assignment. Anything you need, they'll be there to help.
How much do X-ray techs make?
Pay varies across the country. There's no quick way to give an average, because the truth is it depends on where you go and when.
The good news is, you choose where to go. You also have a say in the other factors that affect your travel X-ray tech pay. The housing and the benefits you choose play a factor in determining your take home pay. So, if you want to know how much travel X-ray techs make, the best thing to do is chat with a recruiter. He or she can walk you through the highest paying areas, explain how a pay package is put together, etc.
If you want the scoop, apply now to chat with one of our experts.
Where will I live?
Don't worry. We've got you covered. We'll provide furnished housing or a housing stipend if you prefer to find your own place. Like nearly everything about travel, the choice is yours!
Traveling gives you the chance to discover new places and make an impact at healthcare facilities that really need you. If you're ready to hit the road, apply today. Or keep reading for more info.
Frequently Asked Questions
What states have open X-ray tech travel jobs?
All states do! Jobs fluctuate daily, so not every state will have open jobs at all times. To see what's available now, check out the latest X-ray tech travel jobs.
How long are X-ray technician assignments?
Most assignments are 13 weeks, but you can find both shorter and longer assignments. You can even find per diem options! It's all up to you.
Where can I make the most money?
That depends. Some states, like New York and California, consistently tend to pay well. But that changes seasonally, depending on demand, etc. The best thing to do is to ask your recruiter to keep an eye out for you. If you don't have a recruiter yet, apply now and we'll assign someone to take care of you!
Where can I find X-ray tech jobs near me?
Check out our job search to find X-ray technician jobs near and far.
Start Your
Travel Adventure
Complete this short form and an Aya recruiter will reach out to discuss your travel goals.
Xray Tech Spotlight
Emiliorene, Aya Xray Tech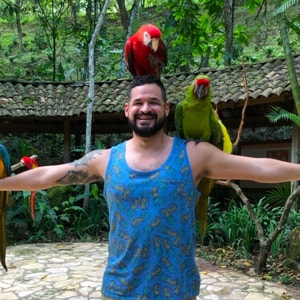 I've been an x-ray tech for over nine years. I'm interested in creating a beautiful x-ray, being able to see what's going on inside when something is wrong. I also like being part of the overall process of helping people get better.
This is my first travel assignment and I'm loving it — I just signed my third extension! Before traveling, I worked in the same hospital for eight years and only ever worked in the operating room. Now, I'm working in the emergency room and I love the fast pace of it.
Traveling has allowed me to experience many new techniques. I feel like I'm becoming a better tech because of it. Getting to learn from your coworkers and see how they do things is helpful too. Not only am I growing in my career, but I'm making new friends and exploring new places. I'd absolutely recommend it.
Ready to travel?
X-ray Technicians - want to know more about Aya Healthcare? Visit our About Us page now.