Pumpkin Snicker Doodles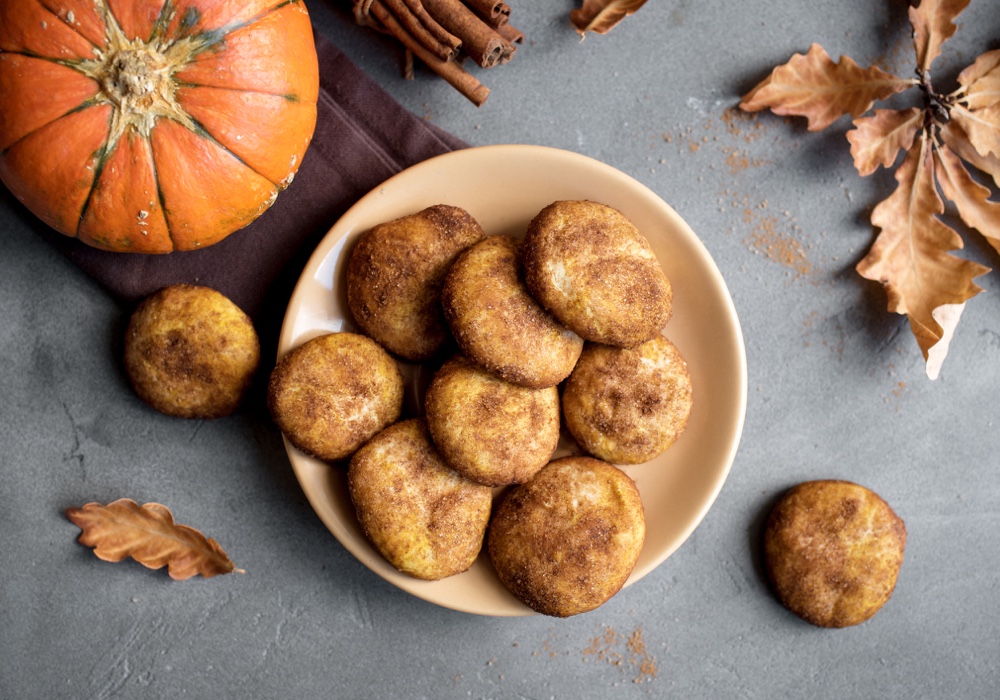 "My cat, Penny, loves these!"
– Rachel, Non-Clinical Program Manager
Pumpkin Snicker Doodles
Ingredients
3 3/4 cups flour
1 1/2 teaspoons baking powder
1/2 teaspoon salt
1/2 teaspoon ground cinnamon
1/4 teaspoon ground nutmeg
2 sticks unsalted butter, room temperature
1 cup sugar
1/2 cup dark brown sugar
1 cup pumpkin puree
1 large egg
2 teaspoons vanilla extract
1/2 cup sugar
1 teaspoon ground cinnamon
1/2 teaspoon ground ginger
Dash of allspice
Directions
In a medium bowl, combine flour, baking powder, salt, cinnamon, and nutmeg. Whisk together to blend.
In a large bowl, beat together butter and sugars on medium speed until well combined. Next, still on medium speed, beat in pumpkin. Then, add the egg and vanilla extract. Lastly, add in the dry ingredients. Beat until combined, but do not over mix. Cover the dough, and refrigerate for one hour, until firm.
Preheat oven to 350 degrees.
Line baking sheets with parchment paper.
In a small bowl, mix together the sugar and spices for the sugar coating.
Scoop dough (approximately 2 1/2 tablespoons) and roll into a ball.
Roll the dough ball in the sugar mixture, and place on the lined baking sheet, leaving about 2 inches between each cookie.
Take a drinking glass with a flat bottom and moisten with water. Dip the glass in the sugar mixture and use it to flatten the dough balls. Re-sugar the glass as needed.
Bake the cookies for 10-12 minutes. Remove when the centers of the cookies have set.
Let cool on the baking pan for approximately 5 minutes, and then transfer to wire cooling racks to cool.