Favorite Fall Chili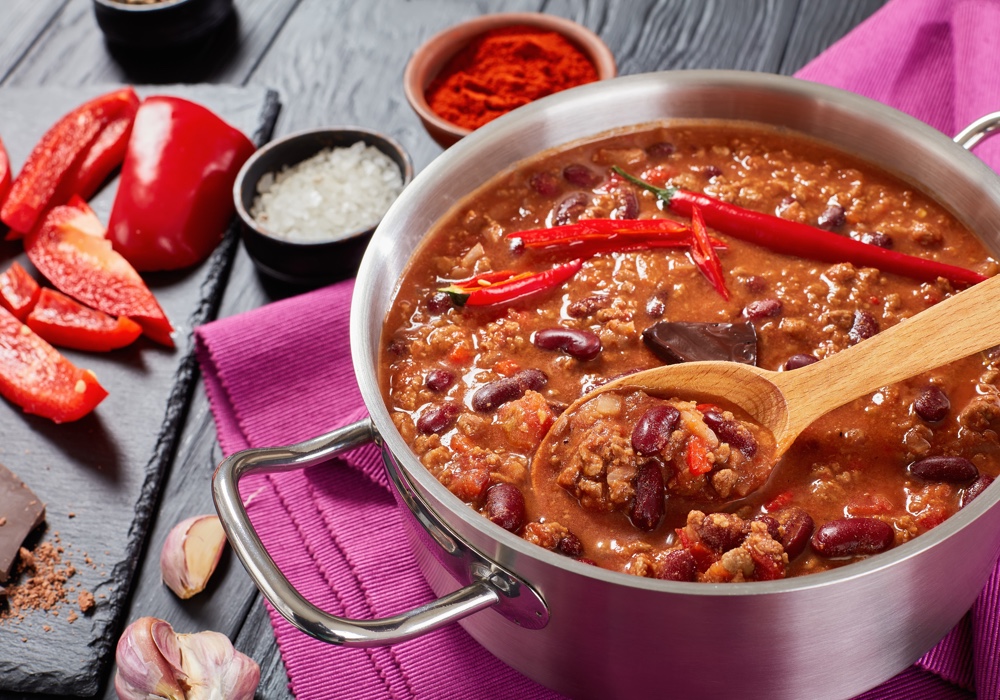 "A friend brought this over once for Friendsgiving and we all loved it so much that it's now part of my family's annual Thanksgiving meal."
– Erin, VP of Marketing
Favorite Fall Chili
Ingredients
3 Anaheim chilies
3 poblano chilies
2 red bell peppers
2 jalapenos
2 large yellow onions
1 head of garlic
1 lb NY strip or ribeye steak (cut into 2/3" cubes)
2 lb ground beef
1 lb Italian pork sausage
1-12 oz beer
2×15 oz cans of pinto beans
2×15 oz cans of kidney beans
1 cup chicken stock
2 cups tomato sauce
1 cup tomato paste
Spices (mix these up as one large spice batch): 2 tsp of onion powder, 2 tsp of coriander, 2 tsp of cayenne pepper, 2 tsp of ground cumin, 2 tsp granulated garlic, 2 tsp hot paprika, 2 tsp kosher salt, 2 tsp of black pepper (ground), 3 tsp of chili powder
Directions
Use an 8 QT or large stock pot. Double or triple the recipe, make it early and put it in the crockpot on low until you're ready to eat. Stir it every now and then and it will stay for hours.
Broil the peppers first, then sweat the skins off or just dice the pepper. Make sure to dice the jalapenos small enough so the dish is consistently hot, without nuggets of heat.
Dice up the peppers and onions, not too small, they should be a rough chop. Throw them into a large stock pot, medium heat, and sauté for about 5 minutes in olive oil/butter. Then add the garlic (diced), sauté for a minute longer. Add the diced NY strip steak, and brown for 2-3 min. Then add the 2 lbs of ground beef and 1 lb Italian pork sausage and brown completely (about 7-10 min longer).
Now add in the spice batch above, stirring as you go.
Next Add in the tomato sauce, tomato paste, wait 2 min, then add in the chicken stock and the beer (have one for yourself at this point). Now add in the kidney and pinto beans (you can leave some of the juice from the cans in if the stock pot has room).
Let simmer for 2-3 hours, stirring frequently.
I like to top mine with sharp cheddar, green onion, sour cream, fresh cilantro and cornbread on the side.