Yes, Some of the Best Travel Nursing Jobs Are at BJC. Here's Why.
Dreaming of finding one of the best travel nursing jobs in the country? Can't decide where to go on your next (or first!) travel nursing assignment? Let us show you the Show Me State.
Missouri offers a little something for everyone, including some of the best travel nursing jobs in the country. Barnes Jewish is one of the most prestigious health systems out there for patients, and one of the best hospitals for nurses.
Aya Healthcare is the MSP for BJC (whew, say that 3 times fast) which means that we take care of their contingent staffing. With Aya, you get priority consideration for assignments in this world-class health system.
Live in an amazing area AND work at a world-class facility? We call that a win/win.
Here are some fast facts about BJC to prove it:
Nothing But The Best. 52% of the physicians on the Best Doctors of 2018 list are on staff at BJC Healthcare Hospitals.
A Magnet For Top Talent. BJC Healthcare has 4 of the 7 Magnet-designated facilities in Missouri (the only ones in the St. Louis metro area.)
The Heart of Healthcare. BJC Healthcare is one of the largest nonprofit health care organizations in the United States.
A+ Report Card. 11 out of the 15 major hospitals within the BJC Healthcare system are designated teaching facilities.
You don't have to take our word for it that BJC is the place to be. Not when you can ask the many, many Aya travel nurses who've been there before.
Most would count working at BJC among the best nursing jobs they've ever had, like Aya travel nurse Joel, who says:
Barnes Jewish is a lot more personal than other facilities I've worked at. Clinically speaking, I've seen procedures I haven't seen anywhere else There's a great sense of community. Everyone literally knows everyone, not only in the operating room where I work, but I know the PACU, the pre-op nurses, some of the staff who clean and sterilize the instruments. You get to know all these different people and you feel like your voice is heard.
I love how welcoming, warm and receptive the staff and management have been to me as a travel nurse. My partner, Natalie, gave birth to our first baby boy a couple of weeks ago and we already have two girls, so it's been an exciting but crazy time. Natalie dealt with pre-term labor, and I would have to come home from work and to take her to the hospital and make sure she wasn't having the baby. They were just so understanding and accommodating any time I needed to go.
If Joel hasn't sold you on packing your bags on BJC's merit alone, check out what Missouri itself has to offer: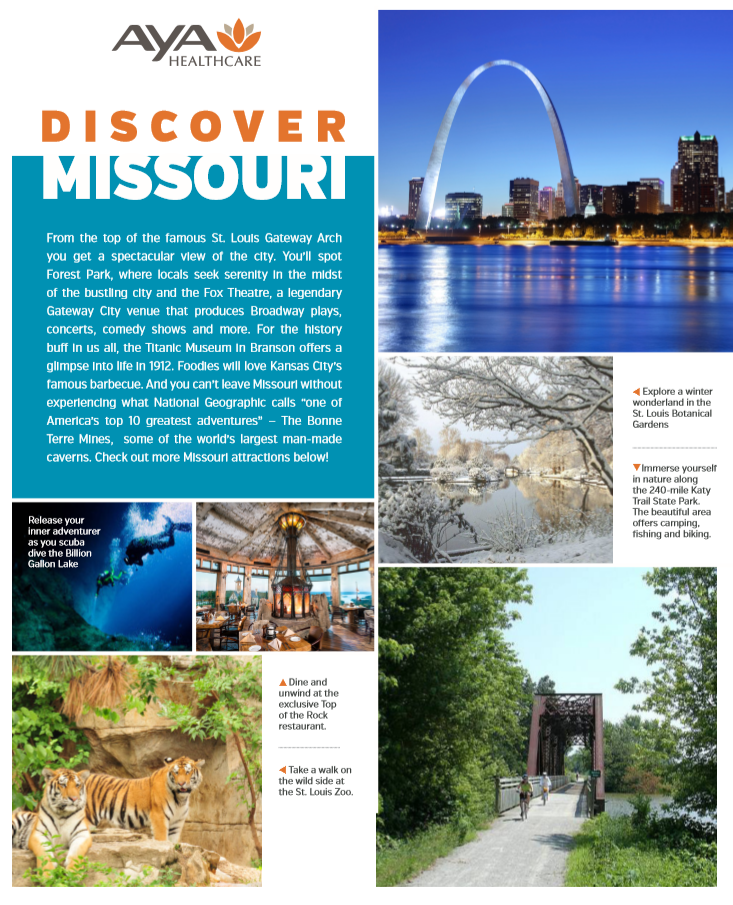 Ready to check out these and other travel nursing jobs in Missouri? Come back and visit our job search anytime. We update it daily.