Travel Nursing Duo Finds Their Perfect Match — in Their Aya Recruiter!
There's no bigger commitment than tying the knot — other than picking a recruiter for travel nursing! Okay, that's a little dramatic. But in all seriousness, your relationship with your recruiter is important for so many reasons. They're the person you can trust to help find travel nursing jobs that fit your needs and wants — whether it's a high-paying assignment, dream location or working at a state-of-the-art healthcare facility.
You can also rely on your recruiter to be a helping hand as you navigate the ins and outs of travel nursing jobs. Aya travelers, Ian and Victoria, found the perfect match in their recruiter, Ali. So much so, they invited her to their wedding!
Travel Nursing — But First, Ping Pong
Ian and Victoria met in nursing school during clinical rotation, but the romance connection didn't start until they shared a few thrilling games of ping pong, explains Ian. "After playing a game against her and almost getting my butt kicked, I knew she was something special. Turns out, she really is the best human!"
Fast forward a few years, and they're moving around the country together as a travel nurse duo! And they give their recruiter, Ali, a lot of credit for how amazing the experience has been so far. "I'm probably biased, but Ali is the absolute best recruiter," shares Ian. "I started with her as a brand-new travel nurse and she's made the entire process seamless with each assignment. I've been working with Ali for a little more than a year and she's been exceptional through it all. She's so personable and has been able to get my wife and I the assignments we want and need!"
Victoria shares the same sentiment. "When we initially decided to leave San Diego, we bounced around between travel nurse companies," she says. "Most of the recruiters we interacted with tried to take a few of our requirements and offer us assignments that barely fit the criteria. I often found myself frustrated from reiterating our wishes. But Ali — she's on top of it every step of the way and listens to all of our concerns. She's so sweet, too!"
More Than Just a Recruiter
Ian and Victoria have experienced travel nursing together for over a year now, but recently came back to their home base in San Diego to tie the knot. And it's no surprise Ali made the cut for their guest list. To them, Ali's more than a recruiter — she's their friend.
For Ali, the feeling's mutual. She loves working with Ian and Victoria. "They're so awesome to work with and very easy going and flexible," Ali explains. "They know exactly what they want and are very open with me about everything. They've become good friends of mine and I know we'll keep in touch even after they're done traveling."
What's next for these lovebirds? Hawaii! "I'm 99.99% positive the island life is for me," Victoria gushes. "One of my favorite things about travel nursing is being able to live in and explore all these vacation destinations with my love…and I know Ali will help us get there!"
When it comes to picking a recruiter for travel nursing jobs, there's a lot to consider. For Ian and Victoria, Ali does everything they'd hoped for and more!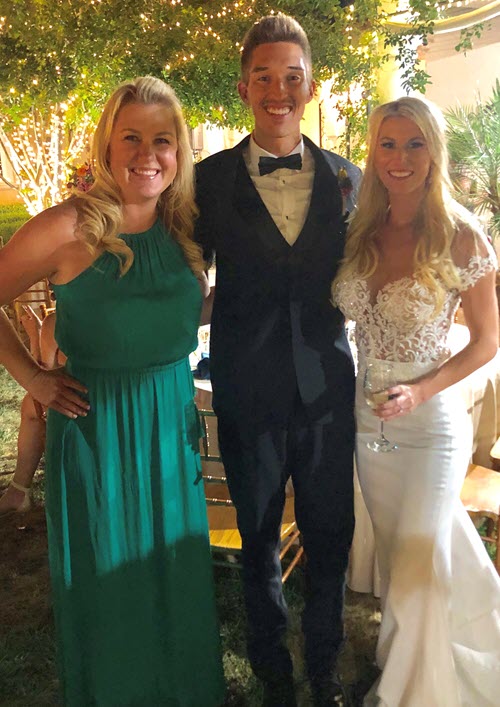 Looking to start your travel nursing adventure with a recruiter who has your back? Register with us today!