Travel Nurse Rod's Skills Are as Perfect as His Pitch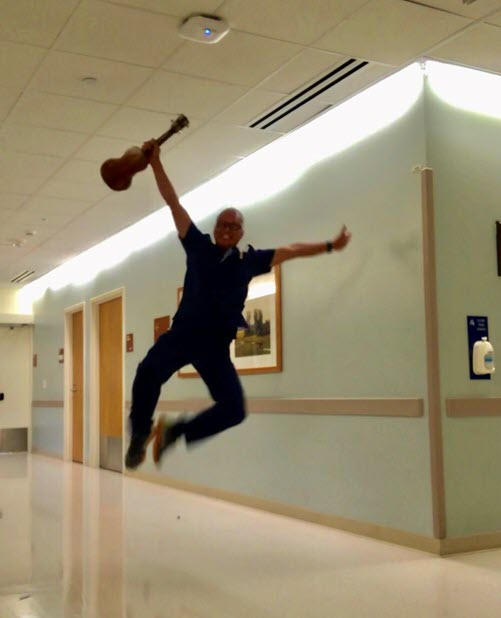 Aya travel nurse, Rod, constantly impresses the patients he cares for with exceptional clinical skills and a warmhearted nature. Hospitals love to see him too — his fifteen years of experience as an ICU nurse make him a great addition to any facility. A little less than two years ago, Rod started looking for travel nursing jobs. In that short time, he's added four prestigious California assignments to his resume and has become known as the travel nurse colleagues love to see on the unit. He's a true team player who never hesitates to go above and beyond for his patients. And he has a little something more than the standard clinical skills up his sleeve…
Rod Goes the Extra (Musical) Mile as a Travel Nurse
Known to many as "The Singing Nurse," Rod has earned a reputation not only for providing exceptional patient care, but also for brightening the day of everyone around him through song. He is often found sitting next to a patient, strumming his ukulele. His songs are beautiful, but they aren't just for fun. He always plays with a specific intention in mind. Rod believes that soothing melodies help heal his patients emotionally.
It's not only patients and coworkers that Rod has touched through his attitude and unique clinical style, but his Aya team as well. His recruiter, Ali, gushes about him. "He has a huge heart and is an amazing nurse who cares about every single patient he sees," she says. His patients and colleagues have been so impressed by the love and light Rod brings to work every day that ­he's been featured on Travel Nursing USA and CNN for his extra care.
Are you looking for travel nursing jobs in California? If so, maybe you'll run into the famous Singing Nurse. Say hello for us if you do!