Recognition Keeps Aya Travelers Warm During Winter Assignments
Check out Aya travel nurse Robin's holiday shout out! 
A colleague wrote our travel nurse Robin the sweetest shout out on their Christmas compliment tree at work.
The holiday card praises Robin, saying "she is very enthusiastic and such a pleasure to work beside. Robin is very intelligent and we all can learn from her. Robin goes above and beyond for her patients and co-workers. Robin never complains and always helps out her team."
Thank you for your exceptional care, Robin!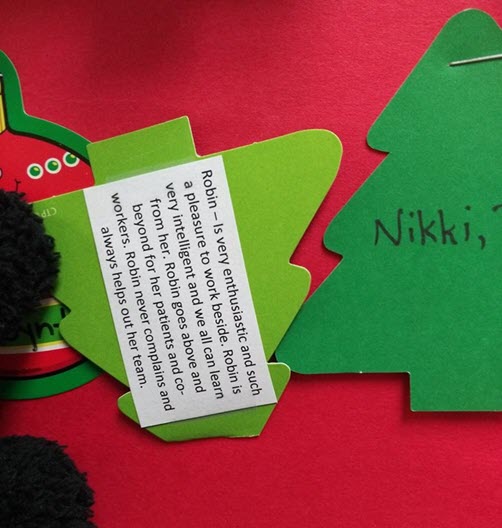 Aya travel nurse Rebecca wraps up her Wisconsin assignment with appreciation from her team
It's safe to say Rebecca's colleagues were sad to see her go at the end of her latest assignment! They even sent a note to her recruiter to express just how much they loved working with Rebecca:
I just wanted to pass along my/our team's appreciation for Rebecca!!! I have been with the facility for almost 15 years. In this time, I have seen many nurses come and go…I will be sad to see Rebecca go. She has been such a great team player, she has been an asset to our entire team. She is willing to help anytime we ask, she is so easy to work with. More importantly, her patients LOVE her!!! You are fortunate to have such a kind, compassionate, flexible nurse working for your company. I wish we had better winter weather…maybe we could convince her to stay.
Great job, Rebecca!