Nurses travel to Poland to aid Ukrainians fleeing the war
Travel nurses Danielle Koller and her partner, Neil Plummer, went on a medical mission to Poland to support the people of Ukraine escaping the war. They shared their experience with us.
"Neil and I were drawn to travel nursing because we wanted to go to places and help people that needed us the most. A former nursing student told me about International Medical Relief (IMR), and it was always on my bucket list. Neither of us have been outside North America so after two years working in COVID-19 ICUs, we decided to take a break and travel to a place that also needed us," said Danielle.
International Medical Relief (IMR) is a non-profit, 501c3 based in Denver, Colorado that is committed to serving vulnerable populations around the world in a sustainable way. PJ Caballa, Clinical Coordinator and International Team Leader for the organization shared, "It was a great pleasure to host and serve alongside Danielle and Neil. Always professional in their interactions, they also led with love and compassion. Their communication skills and flexibility were evident on day one. They immediately connected with those they were serving as well as our team members. From bringing smiles to providing world-class care, both were incredible teammates and made a measurable impact."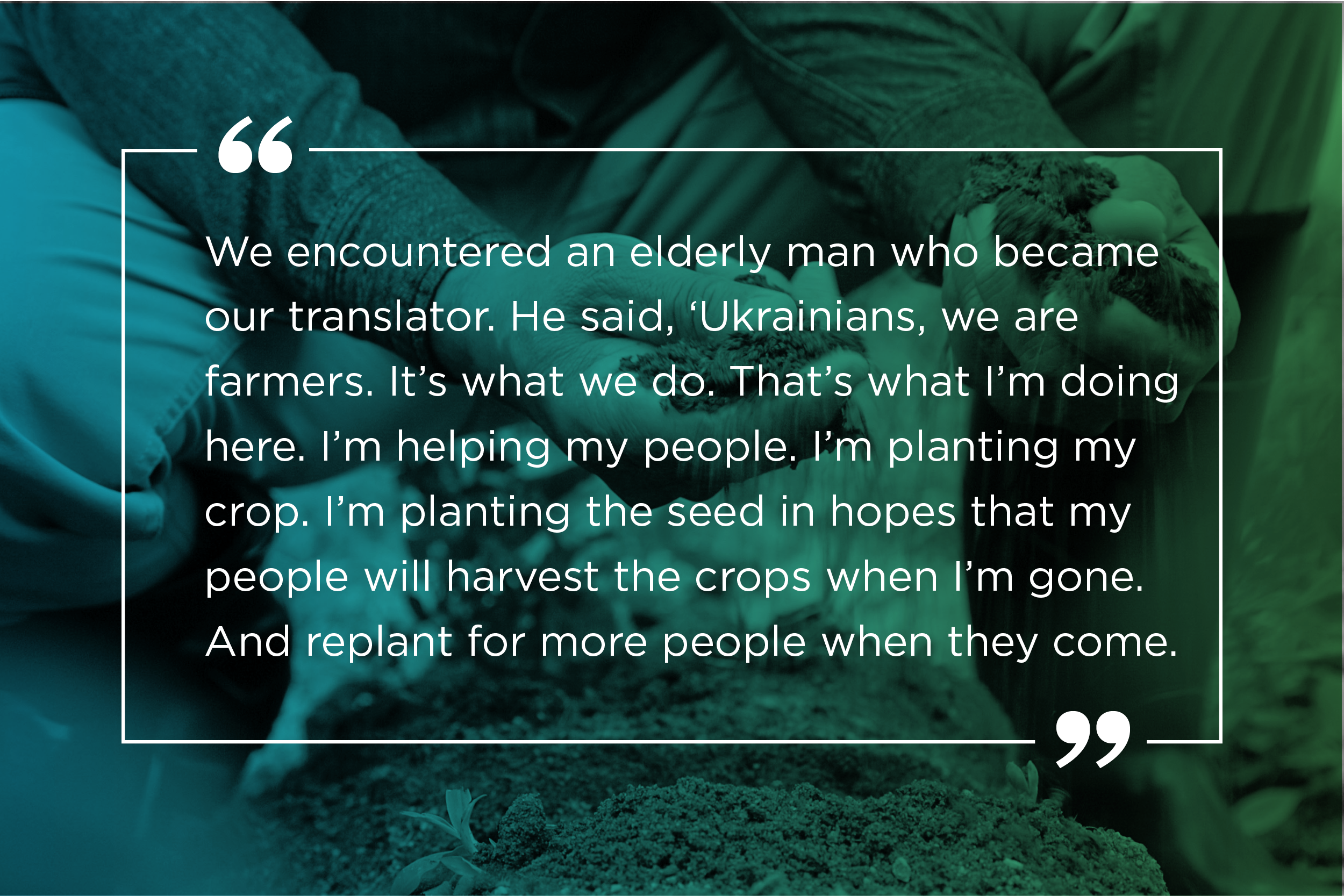 11 weeks into the invasion of Ukraine by Russia, Danielle and Neil traveled to Poland with IMR to support and care for displaced Ukrainians. "We worked in a Transfer Center which was essentially rows and rows of cots lined up as far as the eye could see," said Neil. "Danielle and I had the same 7:00 a.m. to 3:00 p.m. shift every day. We walked up and down the rows and checked on each person at the facility. If someone needed our help, we'd see a hand in the air, and we'd visit their cot. It was called a transfer center because every individual that was there had a different story. Some ultimately wanted to return to Ukraine; some were refugees, and some were waiting to connect with family members."
7.3 million Ukrainians have fled their homes since the conflict escalated February 24, 2022 to seek refuge in neighboring countries. Poland has welcomed millions. Thousands of refugees have passed through the Transfer Center where they were volunteering. "The Transfer Center can accommodate up to 6,000 people," recalled Neil. "A vast majority of the people we helped and cared for were women and children. The men had to stay back and help with the conflict. At our core, nurses are a holistic care provider. Our days were not packed with administering IVs, CPR or administering medication, but instead filled with handing out stickers, playing games and showing the kids how to Yo-Yo. We tried to provide hope and supported their mental and emotional well-being."
"With every reason in the book to not trust Neil and I, or humanity in general, they did so," said Danielle. "And with little to nothing except what they could quickly pack up in a bag, they still felt the need to give back to us. We met this one little boy who was trying to give me a bag of Cheetos. He was so thankful for the bouncy ball I'd given him. I will never forget this boy! We met people from all walks of life, even a renowned opera singer. We encountered an elderly man who became our translator. He said, 'Ukrainians, we are farmers. It's what we do. That's what I'm doing here. I'm helping my people. I'm planting my crop. I'm planting the seed in hopes that my people will harvest the crops when I'm gone. And replant for more people when they come.'"
"While we thought we were going to help people, they gave us so much back. Upon returning home, we realized how much of a soul cleaning experience it was. We will never take anything for granted. With just a backpack and a few belongings, the Ukrainians outlook on life is still filled with hope and love, and we are grateful for the opportunity to support them," said Neil.
Aya Healthcare stands in support of Ukraine and the courageous actions of the Ukrainian people and has donated over $100,000 to humanitarian groups to help families in and fleeing this conflict.