Allied Health Week: Traveler Spotlight
Hey allied travelers — it's time to celebrate you. We hope you have a wonderful Allied Health Week.
We caught up with a few of our allied travelers to see what the Aya life is really like.
Chris, Surgical Tech
I was in the military for a long time and when I got out, I didn't know what to do. My little brother is a surgical tech and he said, "why don't you try what I'm doing? You know you've got the stomach for it." So, I went back to school, and I just loved, loved, loved it.
The moment I was able to travel, I was like, "Oh man, there's no way I'm going to stay in one place. Why would I when I can go all over the country?"
In my last trauma surgery, we pieced a skull back together. In moments like that, you realize you're really lucky. I'm not on this table right now. I'm able to be here to help this person, and maybe they'll have a normal life after this because of that. It puts things into perspective.
*Pro tip
If you want to be a travel surgical tech, you have to be willing to work in a fast-paced environment. I'll do five to six surgeries a day. They can be stressful, but it's always a new adventure.
Courtney, Respiratory Therapist
I always knew I wanted to work in a hospital and when a respiratory therapist came in to talk to our class my junior year of college, I fell in love with the profession. The rest is history!
I started to travel because I wanted to see more of the world. I wanted to see different departments, policies, procedures and thought processes. One of my favorite things about being a respiratory therapist is the ability to work all over the hospital. I work with pediatric and adult patients in the ICU, floor and ER. My end goal is to be the best RRT that I can possibly be.
The best thing about my job is that I really feel like I help make a difference with many of the patients that I see. I've now been traveling for about three years, and I've loved every second of it.
*Pro-tip
If you want to travel as a respiratory therapist, pick a handful of states that you might want to travel to and get your state credentials for all those states at the same time. It will save you time in the end.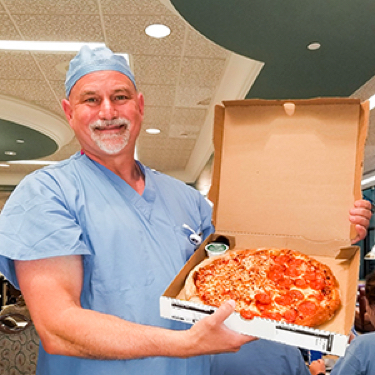 Jeffrey, Cath Lab Tech
My job has changed dramatically in my 33 years. I used to have to go to the darkroom to develop x-rays. There were things on my last certification that weren't even invented when I was in school. I've stayed because I enjoy it. When you help save somebody, help stop somebody from having a heart attack or a stroke, it's very rewarding.
After a large hospital bought out the facility I worked at for 30+ years, I "retired" and started traveling.
What I like most about cath lab is that no matter where I am it's a new patient every hour or two and every patient is different. Even if it's the same procedure over and over, there's always something a little different about it. But when you're moving between hospitals, not much is different about the actual cath lab tech job. There are little things here and there, but with a day or two of training, you can pretty much jump right in.
*Pro tip
I like traveling because you can learn from anybody and everybody. Like John Wooden said, "It's what you learn after you know it all that counts."
If you're an allied traveler who'd like to share your story, email us at ayahealthcare@ayahealthcare.com. We hope to hear from you. Happy Allied Health Week!