Air Force Veteran Charles Was Ready to Get Back on the Frontlines — Cue, Travel Nursing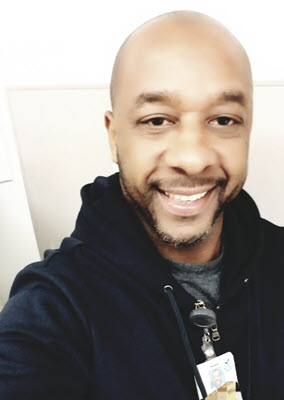 Meet Charles, a med surg RN on his first travel assignment with Aya in El Centro, California. In his current role, he's come into contact with several COVID-19 patients … and that's exactly where he wants to be. "I wanted to get back out there and help people," Charles explains. "Travel nursing gives me the opportunity to get in on the ground and help where I'm needed most."
Sending himself into the unknown to help others is nothing new for Charles, who served as an Air Force medic for sixteen years.
Charles believes nursing is similar to being in the military in several ways (except of course in travel nursing, you don't have mandatory physical training every morning!). Charles explains how both help you become part of a bigger mission — dedicating your life to bettering others' lives. His service in the Air Force taught him to be adaptable, use situational awareness, stay calm under stress and take ownership of his work — all key strengths in travel nursing. And of course, there's the best part … traveling for work! Charles loves being back on the road and looks forward to a new assignment somewhere on the East Coast.
Wherever he goes, Charles knows we have his back. "Aya has a whole team that works together to help me," he says. "There's always someone guiding me in the right direction." Before he started, Charles was afraid he'd have to go through assignments alone. But with consistent support from his recruiter, travel experience specialist and the rest of his support team he's far from alone. It helps to know someone has your back when you dedicate your life to service. Because one thing's for certain whether he's donning a military uniform or scrubs, he'll always go where he can help most.
We couldn't be prouder to work with heroes like Charles. Thank you, veterans, for your service.